The Biggest Anal Prolapse in the World?
This is an issue that raises some discussion among fans of "fisting", as it is not clear how to measure the "biggest prolapse" rectally. There are those who argue that the total volume of the prolapse is the most important, but we also have the defenders that the length or diameter are the most important items.

Then there is the question of the actual measurement of prolapses, which is not supervised and can be inflated by a few centimeters – and this question can only be overcome with an impartial person who measures them.
FistingPlanet.com decided to ask the fans for their opinion on twitter for December 2020, where 3 models were put in option: Claidubois (AKA Clairet), DirtyGardenGirl and Maria086 (Maria Hella).

The results seem to be clear to fans: DirtyGardenGirl is the Queen of the Anal Prolapse.

In order to have a sense of the prolapses of these ladies, photos will be placed.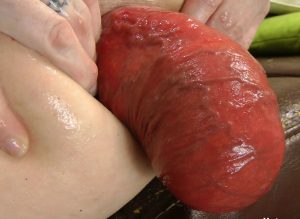 Regardless of which one is the greatest, it is important to say that any of these women is deserving of being on the throne, as they all have fantastic prolapses.
Enjoy!

John A.
FistingPlanet.com